Protect Your Eyes & Vision for Life
Comprehensive eye exams provide vital long-term protection for your ocular health and vision. Even if you've never noticed eye or vision issues in the past, these exams can alert you and your eye doctor to many potential future problems while there's still time to take action.
Our comprehensive eye exams allow us to update your prescription while screening for sight-threatening conditions like cataracts and glaucoma. We also gather data that helps us assess your overall health and your risk for diseases such as diabetes.
Since many eye diseases do not present obvious symptoms until they pose imminent threats to your health or vision, eye exams give you the best chance to protect yourself from them. Our leading diagnostic technology and extensive knowledge help us detect diseases early and create plans to help you treat or manage them.
Are you overdue for an eye exam? Book your next appointment today.
How Often Should I Have Eye Exams?
The American Academy of Ophthalmology recommends that adults schedule routine eye exams as follows:
Adults in their 20s with healthy eyes and good vision should have at least 1 comprehensive eye exam before turning 30.
Adults in their 30s with healthy eyes and good vision should have at least 2 eye exams before turning 40.
At age 40, every adult should have a complete eye exam to look for signs of eye diseases that become more common with age. After this exam, your eye doctor will tell you how often they recommend future eye exams.
Adults above age 65 should have their eyes checked at least once every 2 years. During these exams, your eye doctor will screen for diseases and conditions that become more common with age, including:
Smithfield Eye & Optical is dedicated to providing higher-than-average levels of patient care. We recommend all adults schedule routine eye exams on an annual basis so we can catch early threats to health and vision before they have a chance to become serious.
Some people also need eye exams more often than others. If you have diabetes, high blood pressure, or a family history of eye disease, you will likely need to schedule eye exams more frequently. We'll discuss your needs and answer your questions in full during your first appointment at our practice.
What Happens During My Eye Exam?
We take eye exams seriously and work hard to address all aspects of your ocular health and vision. A comprehensive eye exam often takes between 30 and 60 minutes, depending on your specific needs. If additional tests are required, we'll tell you in advance so you know what to expect. If you're unsure of anything before your exam, simply call us and ask—we'll be happy to help you prepare.
Eye exams often begin with a brief discussion about your medical history. This quick talk helps us learn about any ocular or physical health issues you already know of, as well as any medications you've taken. We may also have a couple of questions about your family medical history, and your current prescription if you already have corrective lenses.
Next, we'll run some tests to learn about your:
We'll also take your prescription if you're getting corrective lenses for the first time. If you're older than 65 or otherwise at risk for glaucoma, we'll also use tonometry to test the pressure inside your eyes.
Let Us Help Protect Your Eyes & Vision
You want your ocular health and vision to last a lifetime, and so do we. If you're due for your next eye exam soon or have questions about the process, contact us and speak with a team member who can give you the help you need.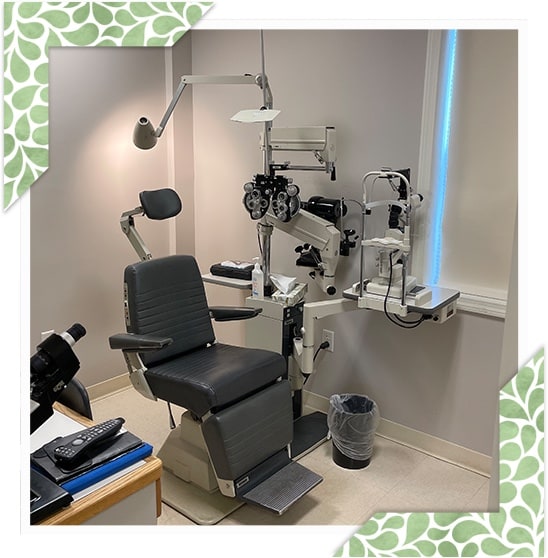 Our Location
Our new practice is located in picturesque Greenville, just steps away from the Rally Point Racquet Club.

Our Address
600 Putnam Pike, Suite 3
Greenville
,
RI
02828